Well, it's February and winter finally hit Victoria. With our normally very temperate weather, it's not often that we think about cold-related illnesses, but here's a crash course for you.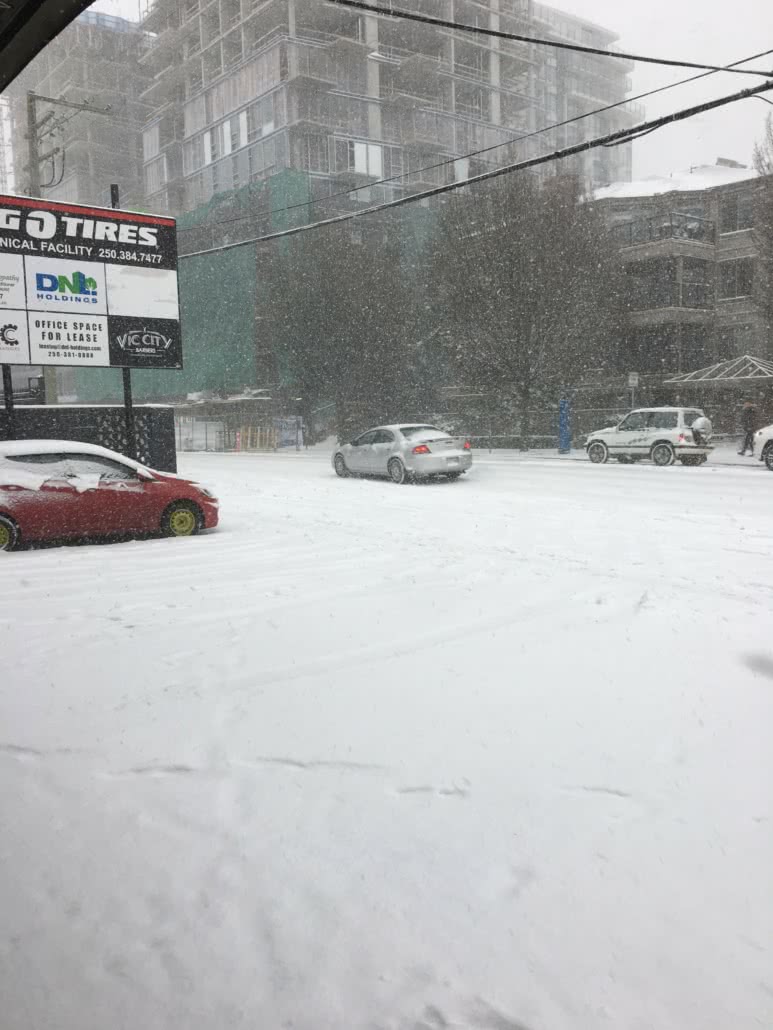 Cold-related illnesses are any conditions caused by exposure to colder temperatures. Some are less severe (like superficial frostbite) and some are life-threatening (hypothermia).
Frostbite
Frostbite is a local, superficial injury caused by freezing of the skin (and even the underlying tissues, in more extreme cases). Toes, fingers, hands, ears, and noses are particularly prone to frostbite.
Before frostbite occurs, a person's skin may appear shiny and rosy (sometimes called frost nip). This is a warning that frostbite is imminent. If you see these signs, advise the person to move to a warmer environment or protect their skin with layers of clothing.
There are two kinds of frostbite:
Superficial frostbite is when the skin freezes but the underlying tissues don't. Sometimes, it can produce clear blisters after the skin thaws, but little or no tissue loss typically occurs.
Signs & symptoms:
Hardened skin
Skin that looks paler than the area around it
Pain or stinging in the area, followed by numbness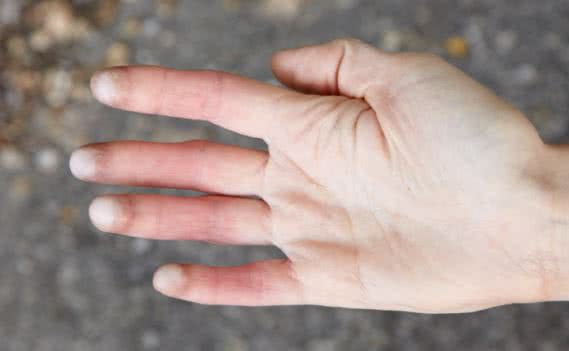 Deep frostbite occurs when the tissues beneath the skin (tendons, muscles, and blood vessels) freeze. Inside the body, ice crystals and swelling begin to damage or destroy the body's cells, blood vessels, and nerves. Deep frostbite can produce dark, hemorrhagic blisters when the tissue thaws, and is more likely to result in tissue loss.
Signs & symptoms:
Waxy skin that is colder than the area around it
Skin and underlying tissue that is hard and solid to the touch
Skin that is white, blue, black, or mottled
Complete loss of feeling
How to Prevent Frostbite
Never ignore numbness: if an extremity feels numb or tingly, take steps to warm it immediately
Cover up vulnerable areas such as the cheeks, nose and ears when outside in the cold
Wear mittens instead of gloves when possible
Maximize foot insulation but avoid a tight fit around the toes
Wear clothing in layers and adjust as necessary so that you are not overheating and sweating
Keep well hydrated
Keep clothing dry and change out of wet clothing as soon as possible
Common factors that increase the risk of frostbite are moisture on the skin, exposure to wind, insufficient insulation and clothing/equipment that reduces or constricts blood flow.
What to do for Frostbite
If possible, remove jewelry or anything else that may restrict blood flow to the affected area
Thaw the area only if you're sure it will not freeze again
Warm the affected area using warm water, if available, or body heat (e.g., by placing the person's hands in his or her armpits or on the abdomen). You should be able to place your own hands in the water for a minute without feeling too warm.
If the frozen area has thawed, don't break any blisters. Protect them with loose, dry dressings. Place gauze between the fingers and toes if they are affected.
If possible, elevate any thawed extremities above the level of the heart.
Because frostbite can be extremely painful, the person may wish to take an over-the-counter painkiller.
Rehydrate the person by provided plenty of fluids.
Encourage the person to seek medical attention.
Never rub the frozen area or put snow on it! Rubbing the area can cause the ice crystals within the cells to damage the surrounding tissues, and rubbing snow will only worsen the condition.
Hypothermia
Hypothermia occurs when the body's core temperature drops to 35 degrees Celsius or lower. Hypothermia becomes life threatening when the core body temperature drops below 28 degrees Celsius.
People with smaller body types, lower overall body weights, and lower body-fat content are much more likely to experience hypothermia. Young children and the elderly are the most at risk.
Signs & symptoms:
Cold Stress (Not Hypothermic)
Shivering
Normal mental status
Able to care for self
Mild Hypothermia
Vigorous shivering; complaining of the cold
Decreased physical function
Difficulty taking care of self
Moderate Hypothermia
Weak and intermittent shivering or shivering that later stops
Sometimes complaining of the cold
Lack of coordination or speech; confused or unusual behaviour
Impaired judgement
Possible unresponsiveness
Severe Hypothermia
Shivering has stopped
Unresponsiveness; breathing has slowed down or stopped
Body feels stiff
No pulse
How to Prevent Hypothermia
Prepare for activities in cold environments by wearing appropriate clothing:

Wear a hat and clothing made of tightly woven fibers (e.g., wool, fleece)
Avoid cotton because it soaks up water and stays wet
Wear clothing in layers so that they can be added or removed according to weather conditions and exercise intensity. Remove some clothing before working to reduce the amount of sweat and keep clothing dry.

Keep clothing dry. If clothing gets wet, change into dry clothing as soon as possible.
Carry and consume high-energy foods that have a lot of sugar.
Common factors that may lead to hypothermia include sweating while outdoors in cold weather, cold/wet/windy conditions, cold-water immersion, dehydration and taking medications to eliminate water from the body.
What to do for Hypothermia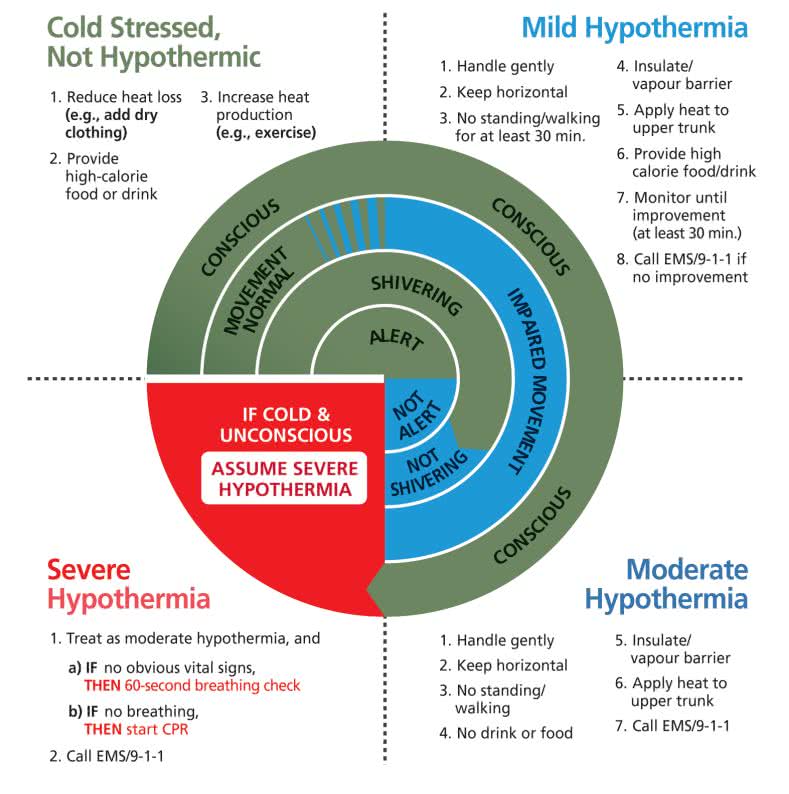 When caring for hypothermia, handle the person very gently and keep them horizontal. Only move the person if absolutely necessary, and take care to avoid bumping or jostling them. Remove wet clothing, but only in an area sheltered from the cold environment.
You can also apply a hypothermia wrap to minimize heat lost. It consists of a number of layers of insulation and heat-reflecting material.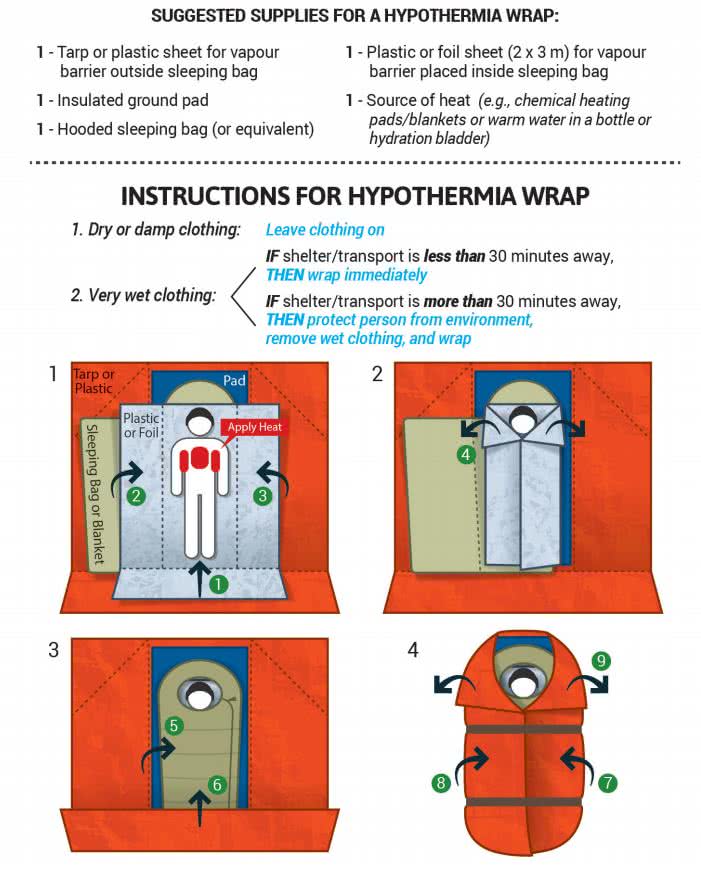 Snow Blindness
Snow blindness occurs when a person's eyes are exposed to ultraviolet rays. It most commonly occurs when the sun's light is reflected from snow, ice, sand, or water into a person's eyes.
To help prevent snow blindness, wear sunglasses that block 100% of UV rays and prevent light from shining in from below, above or the sides.
Signs & symptoms:
Redness of the eyes
Swelling of tissue around the eyes
Pain, itchiness, or a burning sensation in the eyes that may become intense
Temporary colour changes in vision, or even vision loss
These signs and symptoms may not appear for several hours following exposure to bright, snowy conditions!
What to do for Snow Blindness
Place the person in a darker environment, if possible, or cover their eyes.
Apply a cool, damp cloth to reduce pain and burning.
If the person's vision is affected, seek medical attention.
To read more about cold-related illnesses (or anything else first-aid related), please read the Canadian Red Cross Comprehensive First Aid Guide.
https://www.alertfirstaid.com/blog/wp-content/uploads/2019/02/Snow.jpg
4032
3024
Alert First Aid Inc
https://www.alertfirstaid.com/blog/wp-content/uploads/2018/09/logo2.jpg
Alert First Aid Inc
2019-02-15 15:39:45
2019-02-15 15:39:47
Brrr…it's Cold Outside