Back in July, a Surrey teen was rushed to the hospital after collapsing at the gym. He had unexpectedly gone into cardiac arrest, and likely would not have survived if the lifeguards of the adjoining pool hadn't rushed in, used an automated external defibrillator (AED) on him, and then performed CPR. You can read more about this story on CTV News.
His family is now calling for AEDs to be available in schools. The provincial government doesn't currently require schools to have AEDs onsite, although BC's provincial health officer does support the installation of AEDs in schools where there are children or staff with medical conditions that could require them.
Here's the thing though, there was no reason to suspect anything at all was wrong with Alex, the Surrey teen who suffered a cardiac arrest in July. He was an athletic high school student who played competitive soccer. Even two months later, doctors still aren't sure what caused the episode. Tests so far have all come back normal.
Sudden cardiac arrests can happen to anyone, no matter the age or fitness level. While CPR can help prevent brain damage and death by keeping oxygenated blood moving throughout the body, an automated external defibrillator (AED) can correct the underlying problem for some people who go into sudden cardiac arrest. In fact, for every minute that goes by after cardiac arrest without using an AED, your survival reduces by about 10%, so having that quick access to an AED is extremely important.
The Surrey school district said for now, it's facing issues around funding and maintenance. Unfortunately, without full provincial government support, AEDs won't be placed in every school across British Columbia. With community support however, schools like this high school in Surrey, or your child's school, may be able to install an AED, and each AED has the potential to save lives.
The province of PEI is putting AEDs in all of it's public schools – a move that should be adopted across the country.
How much does an AED cost?
There are all sorts of defibrillator makes and models out there. One of the most popular AEDs that Alert First-Aid sells is the ZOLL AED Plus. This AED is durable, gives CPR feedback in real time, and has a much lower than average maintenance cost because the pads and batteries only need to be changed every 5 years (instead of every 2-4 like most other AEDs on the market). This AED regularly costs $1,649. Replacement pads for the ZOLL AED Plus are $190 and batteries are $90.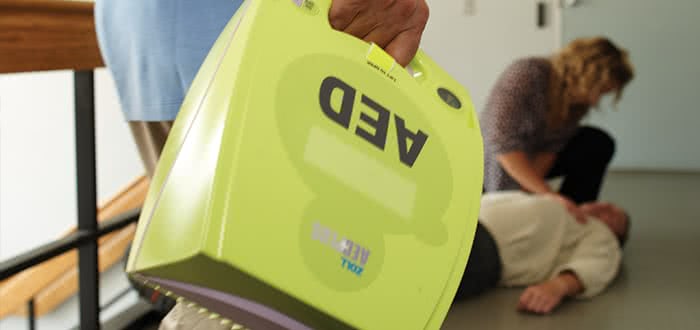 For all the benefits an AED can offer, this price is not astronomical. The AED even self-tests to make sure it is always rescue ready, and if the AED isn't used, the pads and batteries only need to be replaced twice in a decade.
Does your school have an AED on site – and is it well-maintained and ready to use? Until the provincial government mandates AEDs in all schools, it is up to you to make sure your school is able to save the lives of the children and staff who spend so much time there.
Call us now at 1-866-282-5378 or email info@alertfirstaid.com to learn more about the different machines out there, and get some ideas on how you and your school might raise the funds to have an AED installed.
https://www.alertfirstaid.com/blog/wp-content/uploads/2019/09/Automated-External-Defibrillator-AED-Plus-AEDs-for-CPR-CPR-Feedback3.jpg
330
700
Kendall Salahub
https://www.alertfirstaid.com/blog/wp-content/uploads/2018/09/logo2.jpg
Kendall Salahub
2019-09-16 14:18:32
2019-09-16 21:03:28
Does Your School Have an AED on Site?