NORTH VANCOUVER, BC – Many Canadians still aren't wearing lifejackets near the water, and firefighters and police in North Vancouver are again urging people who spend time on the Capilano River to use lifejackets.
A tragic fishing accident claimed the life of a man last week who was fishing with 3 other friends when a line got snagged. He took a couple steps in to the river in an attempt to untangle the fishing line. He slipped, and was swept downstream.
One of his friends jumped in to help, but also ended up in trouble in the water. It took a group of about 6 people about 10 minutes to get him out of the strong current. None of the men were wearing life jackets.
Every year in Canada hundreds of Canadians drown while boating. Most of them never intended to be in the water. Only 12.5% of people who died were wearing a properly fastened and fitted lifejacket or PFD. (Source: Canadian Red Cross Drowning Report).
Just having your lifejacket or PFD near you isn't enough – you need to be wearing one or it won't be able to help you in a situation like this.
Read on for more information about the difference between lifejackets and PFDs.
Lifejackets vs PFDs
Lifejackets:
The terms lifejacket, life vest, PFD, and personal flotation device are often used interchangeably, but there are important differences between a lifejacket and a PFD.
Lifejackets are approved devices that will float someone with their head out of the water, but will also turn that person onto their pack with their face up, even if that person is unconscious. Standard lifejackets are keyhole style and come in two sizes – one for people who weight over 40 kg (90 lbs), and one for people who weigh less than 40 kg (90 lbs). Standard lifejackets must be orange, yellow or red, and have a whistle attached.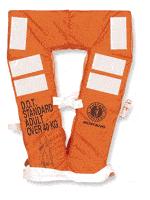 PFDs:
A PFD, or Personal Flotation Device, provides sufficient flotation to keep a person at the surface, but is not self-righting. These are generally smaller, less bulky, and more comfortable than lifejackets, and are available in a variety of styles and colours.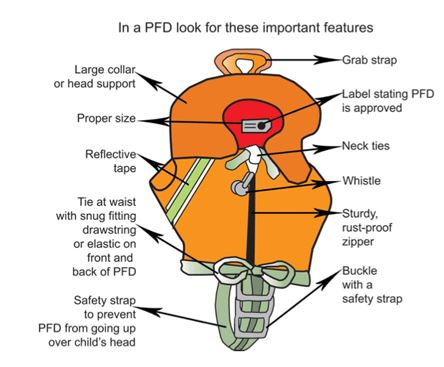 For more information on Lifejackets and PFDs, including children's flotation devices, testing a lifejacket or PFD and proper maintenance of a lifejacket or PFD, click here.
https://www.alertfirstaid.com/blog/wp-content/uploads/2019/11/PFD.jpg
367
444
Kendall Salahub
https://www.alertfirstaid.com/blog/wp-content/uploads/2018/09/logo2.jpg
Kendall Salahub
2019-11-07 14:03:45
2019-11-07 14:03:47
Firefighters in Vancouver are Urging Use of Lifejackets