On Monday, Colin Dowler of Campbell River, BC managed to fend off a grizzly bear north of Powell River. He stabbed the grizzly bear in the neck with his pocket knife, cut off his sleeve to make a tourniquet for his leg and crawled to his bike.
After cycling seven kilometres, with organs exposed and bleeding heavily from his femoral artery, Dowler collapsed at a logging camp. Five loggers performed first aid, and an air ambulance took him to Vancouver General Hospital. He was treated for puncture wounds and deep cuts, and required surgery for damage to his femoral artery.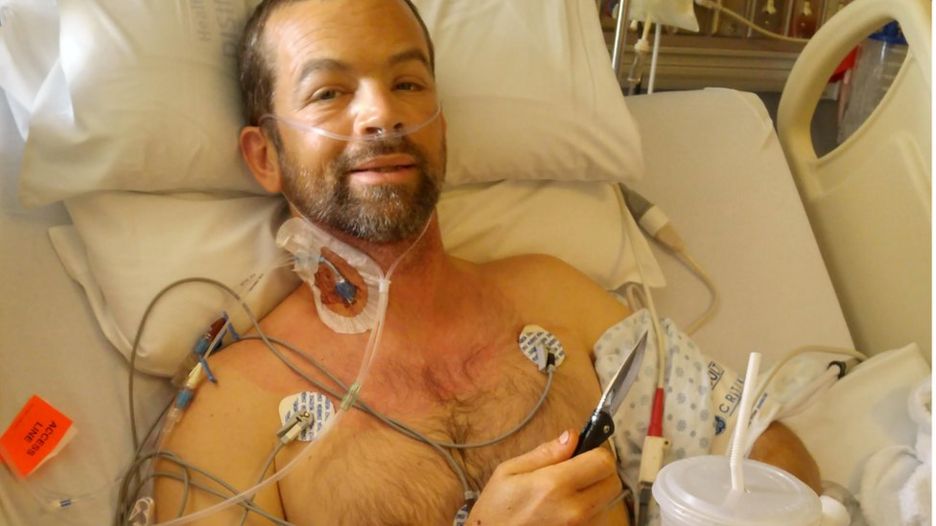 Dr. Naisan Garraway, head of trauma at Vancouver General Hospital, credited Dowler's quick wits for his survival.
"He was able to control some of the hemorrhaging himself, which is super important," he said. "Anytime along the way (on his bike) if he'd lost consciousness, he might not have made it."

Dr. Naisan Garraway, head of trauma at Vancouver General Hospital
You can read more about Dowler's harrowing experience in the Vancouver Sun or BBC.
Could You Survive a Grizzly Bear Attack?
Once Colin Dowler stabbed the bear in the neck, causing the bear to let go and leave him alone, the main thing he needed to deal with immediately was his own life-threatening external bleeding.
This kind of deadly bleeding is difficult to stop or control, and is especially challenging when you're treating yourself. It would be more challenging still if you're in shock from your recent grizzly bear attack.
The first thing you should do when faced with life-threatening external bleeding is to immediately apply direct pressure and then call EMS/911.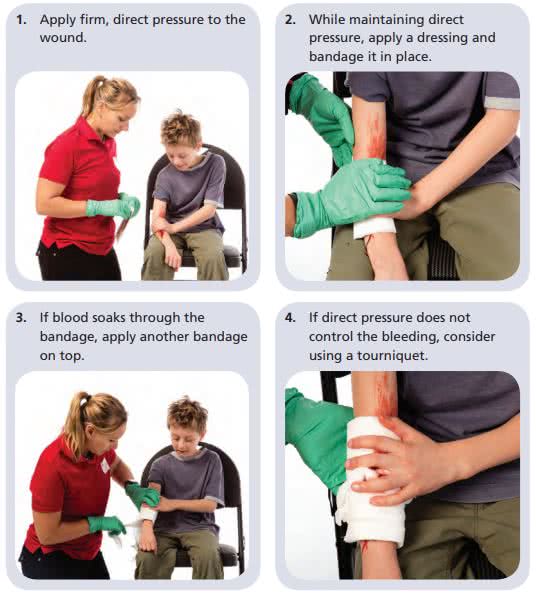 Tourniquets
Apply a tourniquet if you cannot control the bleeding by using direct pressure, you're unable to access the wound or you need to move (like in the case of Colin Dowler).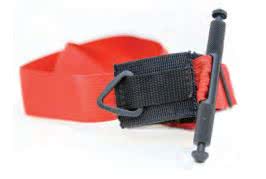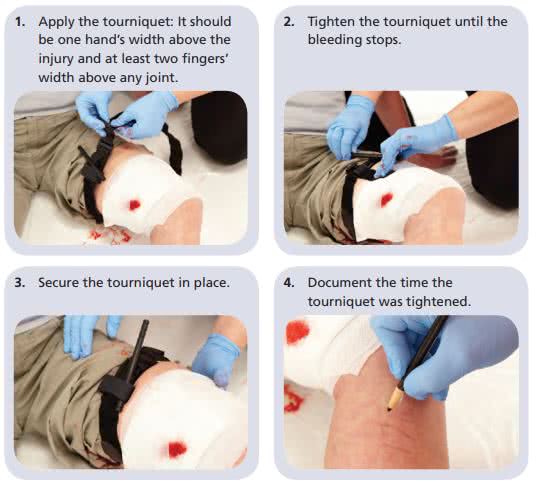 Improvised Tourniquets
If a commercial tourniquet, like the one shown above, is not available, a tourniquet can be improvised. An improvised tourniquet should be wide enough (2″-3″) and tight enough to constrict both veins and arteries. Simply tying a band around a limb rarely provides enough pressure to restrict arterial blood flow, so you'll want to use a windlass (stick-shaped object) to wind the tourniquet tighter.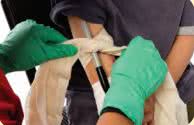 Dowler used his shirt sleeve as an improvised tourniquet. Other options for tourniquet material are:
a triangular bandage
Neck tie
Neckerchiefs, scarves, bandanas
Nylon webbing
Often people suggest using a belt, however belts tightened the same way they would be tightened around a waist would not be tight enough to act as a tourniquet. Belts are also often too stiff to be used with a windlass.
Zip ties (also often suggested), are much too narrow and would likely cause tissue and nerve damage.
Options for an improvised windlass include:
Stick
EMT scissors
Carabiner
Jack handle
If you want to learn more about stopping life-threatening external bleeding (and therefore being able to help yourself or your friend should you be attacked by a grizzly bear), take a first aid class! Alert First-Aid offers weekly courses in Vancouver, Victoria, Duncan and Nanaimo.
https://www.alertfirstaid.com/blog/wp-content/uploads/2019/08/Tourniquet-for-Grizzly-Bear-Attack-Care.jpg
486
536
Kendall Salahub
https://www.alertfirstaid.com/blog/wp-content/uploads/2018/09/logo2.jpg
Kendall Salahub
2019-08-09 10:02:45
2019-08-09 10:04:05
Surviving a Grizzly Bear Attack