Diabetes is a chronic condition characterized by the body's inability to process glucose (sugar) in the bloodstream. An organ called the pancreas secretes insulin, a hormone that causes glucose to move from the bloodstream into the cells, where it is used for energy In a person who has diabetes, either the pancreas fails to make enough insulin or the body's cells are unable to respond to insulin. either situation causes glucose levels in the bloodstream to increase.
Managing diabetes
A person with diabetes may manage the condition with insulin injections or oral medication. Diet and exercise also play an important role. A person with diabetes must follow a well-balanced diet, with limited sweets and fats. The timing of meals and snacks relative to exercise and medication is important as well. People with diabetes may need to check blood sugar levels more frequently when daily routines are disrupted – for example, by illnesses or vacations – as this can cause blood sugar levels to fluctuate more than usual.
If food intake, exercise, and medication are not in balance, the person may experience a diabetic emergency. A diabetic emergency happens when blood glucose levels fluctuate outside the normal range, resulting in either hyperglycemia (too much sugar in the blood) or hypoglycemia (too little sugar in the blood).
Hyperglycemia
Hyperglycemia is when lower insulin levels cause higher blood sugar levels.
Hyperglycemia can result if a person:
eats too much food
takes too little medication
exercises less than usual, or
experiences physical or emotional stress
Hyperglycemia develops slowly, so it is less likely to be a first aid emergency.
With hyperglycemia, the body cells cannot get the sugar they need, even when there is a lot of sugar in the body To meet its energy needs, the body breaks down other food sources, causing waste products to build up in the body and thereby making the person ill. this may also cause the person's breath to have a fruity or sweet odour. This can lead to a serious form of diabetic emergency called a diabetic coma.
Hypoglycemia
Hypoglycemia occurs when the insulin level is too high relative to the level of sugar in the blood. The small amount of sugar in the blood gets used up quickly. Hypoglycemia can result if a person misses a meal or snack, exercises more than usual, vomits, or takes too much medication. With hypoglycemia, the brain does not get enough sugar to work properly; the result is an acute condition called insulin shock. Hypoglycemia develops quickly, and is the cause of most diabetic emergencies.
Common Causes of a Diabetic Emergency
A diabetic emergency occurs when there is an imbalance between two or more of the following:
Exercise
Food intake
Medication
Insulin production
What to Look For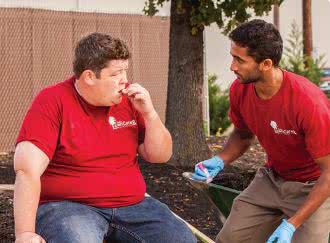 The following are signs and symptoms of a diabetic emergency:
Changes in the level of responsiveness
changes in behaviour, such as confusion, irritability, or aggression
Rapid breathing
Cool, sweaty skin
Skin that is paler than normal
Appearance of intoxication (e.g., slurred speech, difficulty walking)
Feeling and looking ill
Seizures
What to Do
Give them a sweet sugary drink or food.

First aid is the same for both types of diabetic emergencies (hyperglycemia and hypoglycemia). It is easiest to treat too little sugar, so first try giving the person something sugary to see if that helps.

Reassure them.
Most people will gradually improve. If in doubt, or they do not improve call 9-1-1.

Call 911 if you are unable to give the person sugar, the person is not fully awake, the person has a seizure or the person's condition does not improve within 10 minutes of having sugar.
For more information on first aid emergencies, check out the Canadian Red Cross Comprehensive Guide for First Aid.
https://www.alertfirstaid.com/blog/wp-content/uploads/2019/08/Diabetic-Emergency.jpg
243
330
Alert First Aid Inc
https://www.alertfirstaid.com/blog/wp-content/uploads/2018/09/logo2.jpg
Alert First Aid Inc
2019-08-08 14:42:43
2019-09-13 08:56:27
First Aid: Diabetic Emergency