Emergencies come in all different forms – natural disasters, bad falls, a medical emergency, etc. – and it's important to be prepared in case one happens. In fact, it's the very first step in the Canadian Red Cross Comprehensive Guide for First Aid & CPR!
You should have all your emergency items easily accessible – keep a first aid kit in your home and in your car, and know the location of the first aid kit and AED at work. Download the Canadian Red Cross First Aid App (it's free!) to your phone so that you have instructions to follow in case you ever need them.
To be ready for an emergency at home, you should also:
Keep any important information about yourself and your family in a handy, easily accessible place. Include your address, everyone's date of birth, health card numbers, medical conditions, allergies and prescriptions and dosages, as well as contact information for your doctor(s). Show this to anyone who might be caring for your kids, just in case something happens when you're away.
If you still have a landline, post the numbers for the police, fire department, emergency medical services (EMS) and Poison Control Centre near every phone in your home. Save all these numbers as contacts in your cell phone too.
Teach children how to call for help.
Install smoke and carbon monoxide detectors. Test them regularly.
Keep first aid kits in your home and in your car. Make sure everyone in your family knows where to find them and what is in them (and how to use what's in them).
Review and practice the first aid skills you learn so that you will have the confidence and knowledge to respond in an emergency.
Make sure your house or apartment number is large, easy to read and well-lit to make it easier for EMS personnel to find you in case of emergency.
Assign the letters 'ICE' (In Case of Emergency) to contacts in your phone – for example, your doctor, spouse or mother – to allow emergency personnel to reach someone who might know some important facts about you (as the potentially ill or injured person).
If you have a chronic medical condition like diabetes, epilepsy or allergies, consider wearing a medical identification product to alert EMS personnel if you are unable to do so. These don't just come in bracelet form anymore – there are now apps you can download on your phone that create digital identification tags, able to be viewed even when your phone is locked.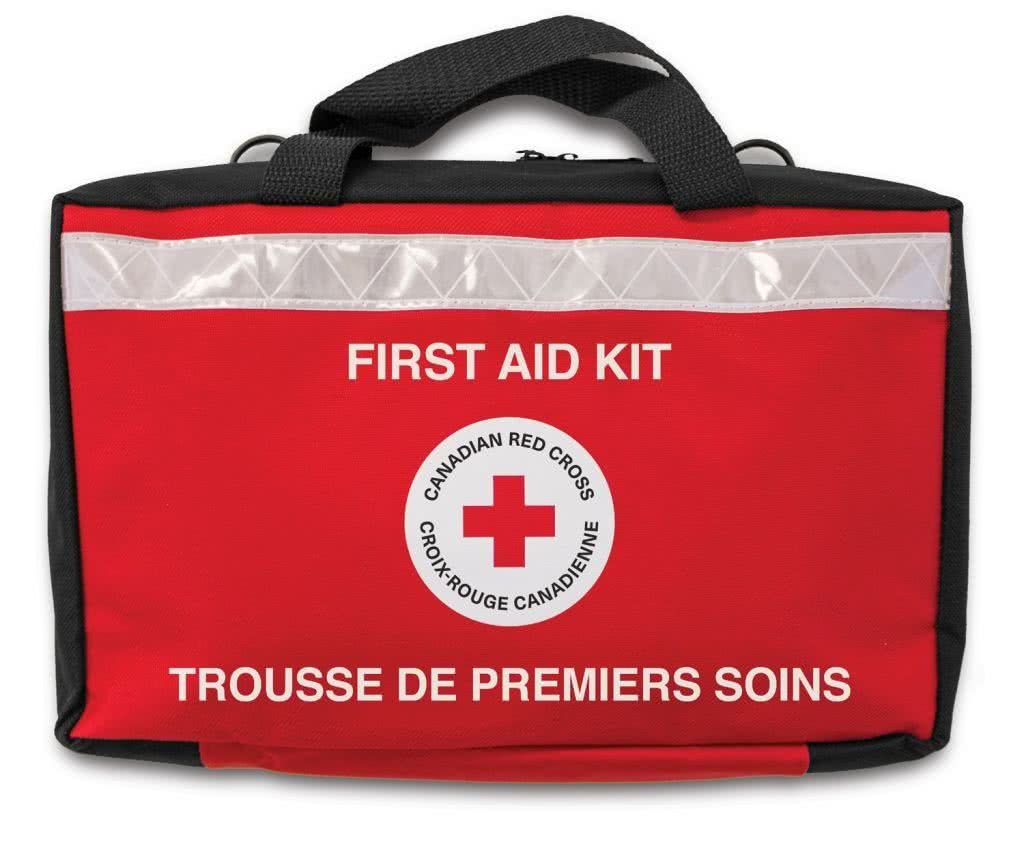 First Aid Kits
You can assemble your first aid kit yourself, or buy one ready-made. We recommend the Canadian Red Cross Deluxe First Aid Kit. No matter which route you go, you'll want to make sure that you check on it regularly. Replace anything that's broken, expired or no longer sterile.
Your first aid kits should include:
Emergency phone numbers for EMS/9-1-1, your local Poison Control Centre (hint: in BC it's 1-800-567-8911 – save that to your phone right now) and your personal doctor(s)
Home and office numbers for anyone who can help you out in an emergency (family, friends, neighbors..)
Sterile gauze pads in assorted sizes
Tape to hold roller gauze on wounds
Roller gauze, pressure dressings, tensor bandages and/or self-adhesive wrap to hold gauze in place
Triangular bandages to make slings
Adhesive bandages (bandaids) in assorted sizes for minor cuts and scrapes
Scissors to cut tape and gauze
Tweezers to remove splinters
Cold packs for soft tissue injuries
Disposable vinyl or nitrile (non-latex) gloves to protect yourself
Flashlight, glow stick or other light source to see what you're doing in the dark
Antiseptic (BZK) towelettes to clean around wounds
Emergency blanket to treat for shock
Barrier device (like a face shield or pocket mask) to protect yourself while performing CPR
Workplace first aid kits must meet provincial/territorial legislation and occupational health and safety guidelines. In BC, you can find WorkSafeBC's guidelines here.
There's a reason that preparation is the first step in the first aid manual – in a life-threatening emergency, every second counts. By preparing for emergencies, you can help ensure that care begins as soon as possible – for yourself, a family member, a co-worker, or a member of your community.
https://www.alertfirstaid.com/blog/wp-content/uploads/2018/09/pexels-photo-1327217.jpeg
1255
1880
Alert First Aid Inc
https://www.alertfirstaid.com/blog/wp-content/uploads/2018/09/logo2.jpg
Alert First Aid Inc
2018-11-07 15:14:09
2018-11-07 15:14:10
Responding to an Emergency – How to Prepare