Choosing the Industry leader is the prudent decision for a long-term relationship - Philips is the AED market leader
When selecting a long-term partner for a potentially life-saving program, you need to be confident that you are making the right choice.
Will your AED provider be here tomorrow? You will need access to pads and batteries, but more importantly their support and expertise, for years to come.
Has your provider already established a proven track record for trust, integrity, quality, expertise, customer service, and ease of doing business? There are good reasons why one company emerges as the industry leader.
Here are some highlights about Philips' track record:
Philips in Resuscitation :
Number 1 in AED market share overall, and in the workplace and public space.
Chosen by 85% of Fortune 100 corporations.
Selected for the early defibrillation programs of 9 out of 10 major US airlines, dozens of regional airlines, many of the largest international carriers, and 24 of the busiest US airports.
Used by 43 professional sports teams.
More than half a million AEDs shipped to date.
Over 15 billion service hours, 15 million added every day.
Full portfolio of resuscitation products and solutions from home to hospital
Legacy of resuscitation dating back to 1961.
Phillips innovation
Choosing the industry innovator has important advantages for your program.
There are tangible benefits to partnering with the innovator.
Philips in Resuscitation :
Keeping you at the forefront of the state-of-the-art and science of resuscitation, as new potentially life-saving discoveries are incorporated into new devices.
Protecting and prolonging the life of your technology investment.
Philips is the AED industry's innovator, ranked as one of the world's most innovative companies by BusinessWeek. Philips leads the AED industry in number of patents.
And in an unprecedented move, we took our most precious patent, defibrillation of infants and children, and gave it away to our competitors. Because Philips believes a child's life should not depend on the luck of the AED brand that arrives at their side.
Here are some of the defibrillator innovations Philips introduced :
An AED user interface optimized for laypeople, which truly opened the door to the public access defibrillation movement
Biphasic AED
Defibrillation of infants and children
High-peak current/low energy therapy; highly potent, yet gentle to a fragile heart.
Over-the-counter purchase
CPR coaching
Compensation for body resistance when delivering a shock
AEDs on airlines
Elimination of pulse check
Shock < 8 seconds (typical) after CPR for better shock success
SMART CPR for more refined advice on whether to shock first or perform CPR first, according to guidelines
Your Key to a Successful Early Defibrillation Program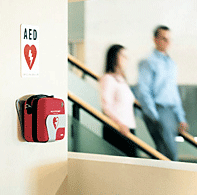 At Philips, we understand that your successful early defibrillation program requires more than just defibrillators. You want a complete solution that helps you manage the entire spectrum of your AED program, including site assessment, training, data management, regulatory support, medical direction, risk mitigation, and more. With Philips HeartStart AED Services, you can rely on a dedicated team of program management specialists to help ensure that your program details are in place and that your organization is prepared in case a sudden cardiac arrest event should occur.